Himalayan Salt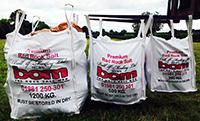 The main benefit of our red salt is the fact that it is 'rock hard', and withstands being left out in the elements, much better than softer white/grey salt from other parts of the world. Also, if the salt is purchased in lots of 250kg and greater, we are able to supply the salt in larger lumps i.e. 15-25kg lumps; these are much easier to place out in the field or in the manger. Salt supplied in 25kg bags have 4/5 lumps per bag, hence smaller lumps of 3/8 kg.
Himalayan Red Rock Salt Quantities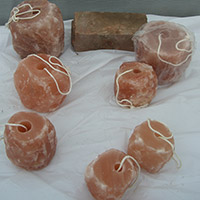 25kg - Double bagged small bags
250kg - Mini tote bags (large lumps)
500kg - Medium tote (large lumps)
1200kg - Large tote bag (large lumps)
We also stock 1,3 & 5kg salt licks on a rope.
To place an order, ask a question or to find out your nearest stockist, please email us via the contact us page or call us on 01981 250301 and we'll be happy to help.